We are more than leadership development experts
We are passionate and determined former executives dedicated to shifting company cultures from within—one leader, one team at a time.
5.12 (five-twelve) Solutions Consulting Group exists to support organizations and individuals looking to make major and lasting shifts. Our programs are based on real-world experience, facts and evidence, not academic theories. We believe in measurable proof on change and personal growth. Equally important, we believe in people—their ability and natural desire to change, grow and learn.
Let us guide you and your people through and beyond the chaos of today's business environment. Transformation starts here.
Accountable for delivering results
We are top experts on team and leadership transformations across organizations and throughout careers. Every engagement gets a custom program and team that best supports your journey to leadership development and team excellence.
MEET OUR TEAM
Measuring behavioral change
Many executive coaching companies make the claim they can. But once you dig deeper, it's simply not true. When you invest in leadership development, you deserve results that are truly measurable. You deserve proof that the program works.
OUR APPROACH
Schedule your complimentary Insight Session
Sal Silvester is an industry thought-leader, innovator and internationally sought-after executive coach and leadership development trainer. He is a blogger, keynote speaker and author of three books: Ignite! The 4 Essential Rules for Emerging Leaders that reached #1 on Amazon's Movers & Shakers list; Unite! The 4 Mindset Shifts for Senior Leaders, an Amazon international best seller, and a collaboration with Marshall Goldsmith entitled Stakeholder Centered Coaching: Maximizing Your Impact as a Coach.
Working with teams and leaders is Sal's passion. His unique perspective has been nurtured through his experience over the past 25 years as an Army Officer, an executive at Accenture, and as founder of 5.12 Solutions and developer and founder of Coachmetrix to affect positive leadership behavior change that extends beyond the conference table to the kitchen table.
Sal is an International Coach Federation certified coach and a Marshall Goldsmith Stakeholder Centered Coaching certified coach. He is also a certified DiSC distributor and expert.
Real world experience
Sal knows what it means to be a team member and a leader. He is a graduate of the US Army Ranger and Airborne schools and has led and managed teams in the desert of Kuwait, the mountains of Turkey, and in the offices of many clients.
He is an avid rock climber, mountain biker and has competed in six marathons and is an Ironman Triathlon finisher. Sal was also selected to be a member of the Denver Chamber 100 and a semi-finalist for the Ernst & Young Entrepreneur of the Year.
Involved in the community
In addition to working with corporations, Sal is a member of Rocky Mountain Rescue, a nationally recognized search and rescue team based in Boulder, Colorado. He has served as an adjunct faculty member at the Community College of Denver teaching business management and marketing courses. Sal is also a member of the Society for Human Resource Management and the Association for Talent Development.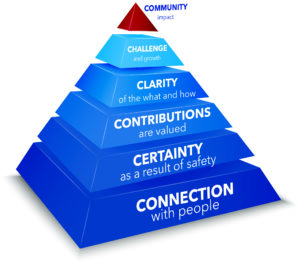 Get your Leading Virtual Teams with Inspiration Toolkit Here
Request your seven-page Leading Virtual Teams with Inspiration Toolkit here for more strategies on leading virtual teams with a deep level of humanity. Please share it with anyone who may find it helpful.
Todd Druley
Chief Medical Officer,
ArcherDX. Inc.
I have had the opportunity to learn about and improve my leadership and management capabilities with Sal and his program. Coming from academia to an executive role in biotech has been a exercise in drinking from the proverbial "fire hose". However, Sal starts by understanding one's style in engaging with other people and then solicits feedback on you from your peers and direct reports. Learning and training then revolves around reconciling how one sees themselves and provides leadership with how one's colleagues view them and their management style. I found myself going from an enthusiastic, but inexperienced biotech exec to a leader who works weekly to provide clear, consistent, tangible instruction to my various teams as well as listen to feedback on what is working and what isn't – aiming for high morale and productivity. I've found multiple individuals within the company asking for reassignment to my teams due to a positive perception and culture. I am far more confident in my goals and how to achieve them. Anyone who has the opportunity to work with Sal and his team, and takes the advice seriously and to heart, will undoubtedly evolve into a more skilled and mature leader, regardless of industry.
Autumn Woods
Director, Sales Learning and Development
Zillow
I have worked with Sal and his team over the last 6 years with 3 different companies (Columbia Sportswear, T-Mobile, Zillow). In that time, I can confidently recommend him and his team to deliver high quality, thorough and behavior changing results for any team, learning program and executive coaching experience. Specifically, I have seen: – a focus on linking leadership development to business outcomes – disciplined approach to measurement using their proprietary software Coachmetrix – thought leadership generated from three books, future of leadership podcast and more. Without a doubt, I highly recommend Sal, his team and 5.12 Solutions to any professional looking to do the hard work and excel in their own careers.